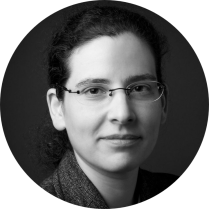 Dr. Irena Kalhousová is Head of The Herzl Center for Israeli Studies and Associate Professor at Charles University. Before joining the faculty, Irena was an analyst at the Institute for National Security Studies in Tel Aviv, a researcher at the Interdisciplinary Center in Herzliya in Israel, a chief analyst at the Prague Security Studies Institute, and the Head of the Middle-Eastern programme at the Association for International Affairs in Prague. Since 2008, she is an analyst and a member of the programme committee at the Foundation Forum2000.
Irena specializes in Israel, Israeli-Palestinian conflict, and in relations between Central European countries and Israel. In her PhD thesis, she looked at relations between Poland, the Czech Republic, Hungary and Israel. Using IR theory which builds on constructivism, historical analysis, and politics of memory, she analysed historical roots of foreign policies of the three Central European countries towards Israel.
Irena is the author of articles and book chapters focused mostly on security and foreign policy in the Middle East and Central Europe. She also wrote expert analysis for the Ministry of Foreign Affairs and the Ministry of Defence of the Czech Republic. She regularly appears as an expert on the Middle East and foreign policy of Central Europe in Czech and international media.
Education:
2019 Ph.D. in International Relations, the London School of Economics and Political Science, UK
2007 M.Phil. in European Studies, University of Cambridge, Pembroke College, UK
2005 B.A. in Political Science, the Hebrew University Jerusalem, Israel
Academic Positions:
2019-now Charles University, Head of the HCIS, Assistant Professor
2016-8 London School of Economics, Graduate Teaching Assistant
2007-12 Anglo-American University, Lecturer
Research Fellowships:
2020 Schusterman Center for Israel Studies, Brandeis University, Boston, USA, Visiting Scholar (due to Covid-19, postponed to 2021)
2018 European University Institute, Florence, Visiting Student
2014 Interdisciplinary Center Herzliya, Israel, Masaryk Distinguished Chair
Research Grants:
2018 Nortia Scholarship, EU
2017 The Sir Patrick Gillam Scholarship Fund, LSE, UK
2016 Santander Travel Grant, LSE, UK
2015 Memorial Foundation for Jewish Culture, USA
Courses taught in the academic year 2020-21:
Israel: Politics and Society (winter term)
The Israeli-Arab/Palestinian Conflict (spring term)
The Foreign Policy of Poland, Czechia, and Hungary Towards Israel (spring term)
Email: